My paleo sweet potato brownies are going to be your new addiction! I bake these almost every week as part of my meal prep and mostly I eat them in one sitting.
These sweet potato brownies only require a few basic ingredients that you are able to find at your local grocery store. 
For the sweet potato sauce I always bake some in the oven and then puree them in my food processor with a splash of water. 
Depending on your dietary needs you can chose egg whites and almond flour for a lower far and higher carb option or an egg (or two small eggs) and ground almonds for a higher fat version. 
And before I even start telling you how they taste: just try them yourself! They are so moist and chocolatey… you won't be able to stop craving them!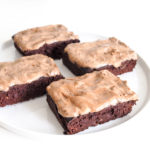 Sweet potato brownies
Ingredients
40

g

sweet potato sauce/Süßkartoffelpüree

20

g

unsweetened cacao powder/ungesüsstes Kakaopulver

40

g

almond flour/Mandelmehl

or ground almonds/oder gemahlene Mandeln

50

ml

egg whites/Eiklar

or 1 big egg/oder ein großes Ei

sweetener of choice/Süße nach Wahl

I used pure stevia powder/ich habe reines Steviapulver verwendet

1

tsp/TL

baking soda/Natron
Instructions
Preheat the oven at 200' C top- and bottom-heat./Den Ofen auf 200 Grad Ober-/Unterhitze vorheizen.

Mix all ingredients for the brownie dough with 120ml liquid and fill in a tin. Bake for around 20 minutes./Alle Zutaten mit 120ml Flüssigkeit vermengen und in eine Form füllen. Etwa 20 Minuten backen.

For the frosting I simply mixed some coconut yoghurt and some raw cacao with vanilla./Für das Frosting habe ich einfach nur Kokosjoghurt mit Rohkakao und Vanille verrührt.
Recipe Notes
Nutritional information for one Brownie/Nährwerte für einen Brownie: (without frosting)
98 calories
10g c I 8g p I 2g f
for the entire recipe/fürs ganze Rezept:
390 calories
42g c I 33g p I 8g f
Product recommendations:
almond flour/Mandelmehl
*
raw cacao/Rohkakao
*
pure stevia powder/reines Steviapulver*
All products with * are affiliate links. If you want to support me without paying extra money, you can purchase my favorite products through these links. This will enable me to continue providing you with content and help to grow my blog.