I guess those are the fluffiest and most delicious blueberry vanilla muffins I have ever made. Probably even the best muffins ever! I have been perfecting my paleo and vegan muffin base recipe for a very long time and when baking those blueberry vanilla muffins last week, I was blown away and couldn't get enough of them…. I had them four days in a row and wouldn't have uni all day long, I would bake the every single day!
Topped with coconut yoghurt and some blueberry powder, they are pure heaven on a hot summer day. The blueberries make these muffins really juicy and although there is no eggs in it the dough is fluffy and has the perfect consistency!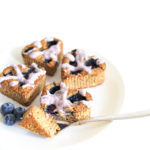 Blueberry vanilla muffins
Ingredients
25

g

almond flour/Mandelmehl

20

g

plantain flour/Bananenmehl

or any other starchy flour like rice, cassava,.../oder ein anderes stärkehaltiges Mehl wie z. B. Reismehl

5

g

coconut flour/Kokosmehl

50

g

pumpkin sauce/Kürbispüree

I always buy that in the baby food section/kaufe ich immer bei der Babynahrung

1/2

teaspoon/TL

baking soda/Natron

1/2

teaspoon/TL

baking powder/Backpulver

a splash of apple cider vinegar/ein Schuss Apfelessig

vanilla/Vanille

sweetener of choice/Süße nach Wahl

I used pure stevia powder/ich habe reines Steviapulver verwendet

blueberries/Blaubeeren

around/ca. 50g
Instructions
Preheat the oven at 200' C top- and bottom-heat./Den Ofen auf 200 Grad Ober-/Unterhitze vorheizen.

Mix all ingredients for the muffin dough apart from the blueberries. Then fill the dough into muffin tins and top with blueberries./Alle Zutaten für die Muffins außer den Blaubeeren vermengen. Dann den Teig in die Muffinförmchen füllen und Blaubeeren darauf verteilen.

Bake the muffins for 25 minutes and then let it cool down./Die Muffins für 25 Minuten backen und dann abkühlen lassen.
Recipe Notes
Nutritional information for one muffin/Nährwerte für einen Muffin:
55 calories
6g carbs I 4g protein I 1g fat
Product recommendations:
almond flour/Mandelmehl
*
plantain flour/Bananenmehl
*
coconut flour/Kokosmehl
*
pure stevia powder/reines Steviapulver*
All products with * are affiliate links. If you want to support me without paying extra money, you can purchase my favorite products through these links. This will enable me to continue providing you with content and help to grow my blog.