Another Sunday – another rhubarb recipe. After my paleo and vegan rhubarb lemon cheesecake, I created those delicous rhubarb tonka bean rolls.
I a huge fan of cinnamon rolls but I have to admit that I might like those rhubarb tonka bean rolls even more!
They are so sweet and at the same time a bit sour from the rhubarb whilst refreshing due to lemon and orange peel. Tonka bean enhances the marzipan taste of almond flour even more and all those spices together make these rolls unique and so delicous.
I have fallen in love with spices years ago and love experimenting with them since being little. Tonka bean is one of my newer discoveries but definitely one of the best I have ever made! 
If you like almonds and marzipan, you have to stock up your pantry and invest in some tonka beans! They are so worth the money.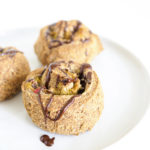 Rhubarb tonka bean rolls
Ingredients
Dough/Teig
20

g

coconut flour/Kokosmehl

30

g

almond flour/Mandelmehl

10

g

plantain flour/Bananenmehl

5

g

flax meal/Leinmehl

5

g

psyllium husk/Flohsamenschale

70

g

cashew yoghurt/Cashewjoghurt

100

ml

hot water/heißes Wasser

a splash of/ein Schuss

apple cider vinegar/Apfelessig

1/2

teaspoon/TL

baking soda/Natron

sweetener of choice/Süße nach Wahl

I used pure stevia powder/ich habe reines Steviapulver verwendet

vanilla, lemon peel/Vanille, Zitronenabrieb
Rhubarb filling/Rhabarber Füllung
100

g

peeled rhubarb/geschälter Rhabarber

vanilla, orange peel, tonka bean/Vanille, Orangenschale, Tonkabohne

sweetener/Süße

optional
Instructions
Preheat the oven at 200' C top- and bottom-heat./Den Ofen auf 200 Grad Ober-/Unterhitze vorheizen.

Mix all ingredients for the dough and let sit for 10 minutes./Alle Zutaten für den Teig vermengen und 10 Minute ruhen lassen.

For the filling cook rhubarb with some liquid and spices (and optionally sweetener) in a pan./Für die Fülling den Rhabarber mit etwas Flüssigkeit und den Gewürzen (und optional Süße) kochen.

Flaten the dough and spread the rhubarb filling onto it before cutting it into three pieces and rolling it into rolls./Den Teig ausrollen und die Rhabarberfüllung darauf verteilen. Dann drei Streifen schneiden und diese zu Schnecken rollen.

Bake for 30 minutes until golden./Für 30 Minuten goldbraun backen.
Recipe Notes
Nutritional information for 1 roll/Nährwerte für eine Schnecke:
100 calories
6g c I 8g p I 3g f
Product recommendations:
almond flour/Mandelmehl
*
plantain flour/Bananenmehl
*
coconut flour/Kokosmehl
*
pea protein/Erbsenprotein
*
flax meal/Leinmehl
*
psyllium husk/Flohsamenschale
*
tonka bean/Tonkabohne
*
pure stevia powder/pures Steviapulver
*
All products with * are affiliate links. If you want to support me without paying extra money, you can purchase my favorite products through these links. This will enable me to continue providing you with content and help to grow my blog.