Sometimes all we need is a quick and healthy fix for sweet cravings… especially if you are very busy and don't have a lot of time to be in the kitchen enjoying a homemade treat is very rare. But this recipe will be the game changer. My brownie mug cake is not only on the lower calorie side but also paleo and optionally vegan whilst at the same time so delicious!
To make the mug cake even more moist I would recommend adding a teaspoon coconut oil to the dough. This is not a must but if you can handle adding some more fat, than definitely give it a go!
If you opt for the vegan version, you don't need to add anything special – just a little bit more liquid to replace the egg white does the job!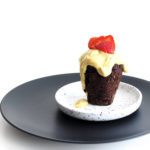 Brownie mug cake
Ingredients
Brownie
10

g

coconut flour/Kokosmehl

10

g

unsweetened cacao powder/ungesüsstes Kakaopulver

10

g

almond flour/Mandelmehl

sub for sunflower flour if allergic to nuts/oder Sonnenblumenkernmehl für Nussallergiker

15

g

plantain flour/Bananenmehl

50

g

grated zuchini/geriebene Zuchini

sweetener of choice/Süße nach Wahl

I used pure stevia powder/ich habe reines Steviapulver verwendet

vanilla/Vanille

25

ml

egg whites

or a small egg or 20ml extra liquid for vegan option/oder ein kleines Ei oder 20ml mehr Flüssigkeit als vegane Option

50

ml

water

1/2

teaspoon/TL

baking soda & powder/Natron & Backpulver
Instructions
Brownie
Mix all ingredients and fill into a mini baking tin or mug./Alle Zutaten vermengen und in eine Minikuchenform oder eine Tasse füllen.

Bake in the microwave for 3-4 minutes at 800W. You an also bake the cake at 200' C top- and bottom-heat for about 15-20 minutes in the oven./Für 3-4 Minuten bei 800W in der Mikrowelle backen. Du kannst den Kuchen auch bei 200 Grad Ober- und Unterhitze für 15-20 Minuten im Ofen backen.
Recipe Notes
Nutritional information (for egg white version)/Nährwerte (für die Eiklar Version):
182 calories
17g c I 12g p I 5g f
Product recommendations:
almond flour/Mandelmehl
*
plantain flour/Bananenmehl
*
coconut flour/Kokosmehl
*
All products with * are affiliate links. If you want to support me without paying extra money, you can purchase my favorite products through these links. This will enable me to continue providing you with content and help to grow my blog.