All I want for Christmas is…. WAFFLES! I'm a huge fan of paleo waffles and there is hardly a day without. Sweet or savory – waffles are perfect as breakfast, bread substiute, dessert or snack! 
As you probably know by now, there is no recipe without spices and cause it is only one week until Christmas, I made those christmasy chocolate punch waffles which happen to be paleo and you can even make them vegan!
Punch for me means that typical fruity orange taste mixed with a lot of different spices that taste amazing and sweet. When I was little my Mum used to make punch a lot during holiday season and the whole kitchen smelled from juicing oranges and cooking fruit tea with spices. And that is exactly what those waffles reminded me of.
I recently invested into a belgian waffle maker
* and I even prefer using it over my heart-shaped waffle maker now. It is easy to use because you don't have to think about the right temperature. You only have to turn it on and off you go! It is also non-stick and apart form the first time using it, I never greased it. Within 3 minutes you get two perfectly baked waffles.
If you don't want to use eggs, then you can simply use egg replacer
* to make vegan and paleo chocolate punch waffles. I even think you could try adding some potato starch and smashed banana instead of that and the waffles would turn out fine – but I haven't tried that!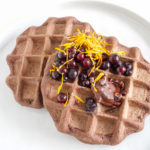 Chocolate punch waffles
Ingredients
15

g

plantain flour/Bananenmehl

or any other starch flour/oder ein anderes stärkehaltiges Mehl

10

g

coconut flour/Kokosmehl

20

g

almond flour/Mandelmehl

10

g

unsweetened cacao powder/ungesüsstes Kakaopulver

1

egg/Ei

or 50ml egg whites, vegan egg replacer works, too/oder 50ml Eiklar, veganer Eiersatz funktioniert auch

60

ml

almond milk/Mandelmilch

cinnamon, orange peel, clove powder/Zimt, gemahlene Nelken, Orangenschale

sweetener of choice/Süße nach Wahl

I used raw stevia powder/ich habe reines Steviapulver verwendet

baking powder, baking soda/Backpulver, Natron
Instructions
Preheat your waffle maker./Das Waffeleisen vorheizen.

Mix all ingredients and add more liquid if needed to get a thick dough./Alle Zutaten verrühren und nach Bedarf etwas mehr Flüssigkeit dazugeben, um einen etwas dickeren Teig zu erhalten.

If needed, grease your waffle maker and bake your waffles for about 3 minutes. (For my waffle maker splitting the dough into two halves worked perfectly to get two waffles. Depending on your waffle maker you might get three waffles.)/Wenn nötig, das Waffeleisen einfetten und dann die Waffeln für etwa 3 Minuten backen. (Ich fülle pro Waffel ca die Hälfte des Teiges ins Waffeleisen. Je nach Waffeleisen kann das aber variieren.)

Top with whatever you desire and enjoy!/Die Waffeln mit Toppings nach Lust und Laune servieren und genießen!
Recipe Notes
Nutritional value for both waffles/Nähwerte für beide Waffeln:
265 calories
18g c I 20g p I 11g f
with egg whites/mit Eiklar:
208 calories
18g c I 19g p I 4g f
Product recommendations:
almond flour/Mandelmehl
*
coconut flour/Kokosmehl
*
plantain flour/Bananenmehl
*
All products with * are affiliate links. If you want to support me without paying extra money, you can purchase my favorite products through these links. This will enable me to continue providing you with content and help to grow my blog.