To be honest – since I made my pumpkin shepard's pie trying ground sunflower
* for the first time I am addicted. I love to just eat it plain, as ground beef substitute and I'm even experimenting baking with it.
It is an amazing alternative to meat for people who are vegan but can't have soy, for paleo folks and everyone else who just loves to try something new. I also like that it is a local product, made from German sunflowers by a small family company. Of course, you can also use normal ground beef or another substitute to try this recipe which you definitely should! 
This stuffed bell pepper recipe is far from your conventional one. No ground beef and no usual spices. I love the combination of spicy chili, fresh peppermint and smoked paprika and cumin which gives this recipe a flavorful twist. I promise: you never experienced such a taste explosion before.
Peppermint is not only an amazing spice, it is also a great herb for any gut issues.
It helps with indigestion and irritable bowl syndrome which includes symptoms like bloating, diarrhea, pain and gas.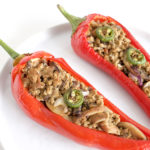 Stuffed peppermint peppers
Ingredients
38

g

ground sunflower (2 portions)/Sonnenblumenhack (2 Portionen)

or ground beef (substitute)/oder Hack(alternative)

2

bell peppers/Paprika

100

g

mushrooms/Champignons

1/4

onion/Zwiebel

10

g

tomato paste/Tomatenmark

1

pepperoni/Pfefferoni

dried peppermint/getrocknete Pfefferminze

salt, pepper, chili, cumin, smoked paprika/Salz, Pfeffer, Chili, Kreuzkümmel, geräucherte Paprika
Instructions
Preheat the oven at 200' C top- and bottom-heat./Den Ofen auf 200 Grad Ober-/Unterhitze vorheizen.

Cover ground sunflower with a bit of water and let it absorb it. Cut up mushrooms and onion. Then fry it with mushrooms, onion, tomato paste and spices in a pan./Das Sonnenblumenhack mit Wasser benetzen und dann mit Zwiebeln, Tomatenmark, Champignons und Gewürzen anbraten.

Fill into bell peppers and bake for about 15-20 minutes in the oven./Die Füllung in die Paprikas geben und für etwa 15-20 Minuten im Ofen backen.
Recipe Notes
Nutritional information for one stuffed bell pepper/Nährwerte für eine gefüllte Paprika:
133 calories
14g carbs I 14g protein I 1g fat
Product recommendations:
ground sunflower/Sonnenblumenhack
*
All products with * are affiliate links. If you want to support me without paying extra money, you can purchase my favorite products through these links. This will enable me to continue providing you with content and help to grow my blog.