It's getting cold outside and all I am craving are big warming bowls filled with nourishing food.
This creamy "cheese" soup recipe is really easy to make, doesn't require any fancy cooking equipment and you spending a lot of time in the kitchen.
I also love to use less liquid (veggie stock) to make a creamy dip or bread spread instead of soup. Another great twist is to use the recipe for cheese fondue. I love to dip freshly baked crispy roasted paleo bread into this hot soup.
Although this recipe is paleo and vegan and doesn't contain any cheese or other dairy products, it contains a fair amount of protein: this whole bowl of soup can offer 12g of protein!
Apart from nutritional yeast
*, the ingredients are quite easy and cheap to get. If you don't have access to cashew butter, just soak some over night and blend them in a food processor to make your own cashew butter.
The cashew butter and nutritional yeast
* are essential to create a cheese-like flavor. 
Apart from its cheesy flavor, nutritional yeast
* has a lot of health benefits to offer:
great source of vitamin B12
rich in fiber
high in protein
low glycemic
contains folic acid
supports immune function and can help prevent the common cold
can help with upset stomach and diarrhea
is antiviral and antibacterial and can thus prevent chronic candida symptoms
As you can see, adding nutritional yeast to your soup will not only give you a warming meal for those cold winter days but also support your body at all levels! I am a big fan of eating to nourish the body and giving it what it needs to perform at its best and investing in some more exotic things like nutritional yeast
* is definitely worth it!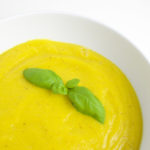 Creamy "cheese" soup
Ingredients
400

g

cauliflower/Blumenkohl

50

g

carrot/Karotte

a small one/eine kleine

15

g

cashew butter/Cashewmus

5

g

nutritional yeast/Hefeflocken

10

g

dijon mustard/Dijon Senf

250

ml

veggie stock/Gemüsebrühe

hot/heiß

turmeric, ginger, onion, garlic/Kurkuma, Ingwer, Zwiebel, Knoblauch

salt, pepper/Salz, Pfeffer
Instructions
Cook or steam veggies./Das Gemüse kochen oder garen.

Put all ingredients in a food processor and mix until smooth. Depending on your desired consistency add more or less veggie stock./Alle Zutaten in einen Hochleistungsmixer füllen und mixen bis eine cremige Suppe entsteht. Je nach gewünschter Konsistenz mehr oder weniger Gemüsebrühe verwenden.
Recipe Notes
Nutritional value for the whole recipe/Nährwerte für das ganze Rezept:
244 calories
24g c I 12g p I 8g f
Products I recommend:
nutritional yeast/Hefeflocken
*
cashew butter/Cashewmus
*
turmeric/Kurkuma
*
dijon mustard/Dijon Senf
*
All products with * are affiliate links. If you want to support me without paying extra money, you can purchase my favorite products through these links. This will enable me to continue providing you with content and help to grow my blog.