My American folks are celebrating thanksgiving and holiday season isn't far. There are a lot of traditional dishes people have on festive occasions like Christmas depending where they come from.
This is not a typical dish in Austria but I always wanted to have shepard's pie.
And as I am in love with pumpkin, I created this paleo and optional vegan recipe. For the toppingI used pumpkin instead of potato and  instead of butter. MCT oil
*has a lot of benefits for your health and I love to incorporate it into my diet on a daily basis.
Some of those proven health benefits include
MCTs are Antimicrobial and Antiviral

MCTs can aid in Weight Loss

MCTs Enhance Exercise Performance

MCTs Can Affect Cholesterol

MCTs Helps With Diabetes

MCTs Benefits the Brain
Paleo and vegan meat substitute
AND I am so excited to tell you that I finally found a paleo and vegan meat substitute: sunflower ground "beef"
*.  
It is made from sunflower seeds, can be used like ground beef and is similar to those soy ground beef products. Apart from the fact that it doesn't contain any soy. Or other nasty additives like wheat. 
I love its taste and can't wait to use it more often.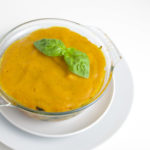 Pumpkin shepard's pie - paleo & vegan
Ingredients
Filling
100

g

swiss chard/Mangold

100

g

carrots/Karotten

a medium one/eine mittelgroße

150

g

celery/Sellerie

100

g

leek/Lauch

100

g

parsley root/Petersilienwurzel

a bigger one/eine größere

1

tbsp/EL

tomato paste/Tomatenmark

salt, pepper/Salz, Pfeffer

thyme, rosemary/Thymian, Rosmarin

onion, garlic/Zwiebeln, Knoblauch

150

g

ground turkey or beef /Hackfleisch

or 1 portion sunflower ground "beef"/oder 1 Portion Sonnenblumen Hack
Smashed pumpkin topping
300

g

pumpkin

1

tbsp/EL

coconut oil, ghee or MCT oil/Kokosöl, Ghee, MCT ÖL

chili flakes/Chiliflocken

salt/Salz
Instructions
Preheat the oven to 200 degrees celcius./Den Ofen auf 200 Grad Ober-/Unterhitze vorheizen.

Sauteed veggies and meat (substitute) in a skillet. When the veggies are soft, add tomato paste, some water and spices./Das Gemüse und Fleisch(substitut) in einem Topf dünsten. Wenn das Gemüse gekocht ist, das Tomatenmark, etwas Wasser und Gewürze hinzugeben.

Steam or bake pumpkin until tender. Then blend it with all the other topping ingredients in a food processor until smooth./Den Kürbis garen oder im Ofen backen bis er weich ist. Dann mit den anderen Zutaten des Toppings in einer Küchenmaschine mixen.

Transfer the filling into a casserole dish and put the topping on top. Bake for 10-15 minutes in the oven./Die Füllung in ein ofenfestes Gefäß geben un dann das Topping darauf geben. Für 10-15 Minuten im Ofen backen.
Recipe Notes
Nutritional information/Nährwerte: with ground turkey/mit Putenhack: 418 calories 36g c I 43g p I 11g f with ground sunflower "beef"/mit Sonnenblumen "Hack":
314 calories
36g c I 21g p I 8g f
Product recommendations:
sunflower ground "beef"/Sonneblumen Hack
*
MCT oil/MCT Öl
*
All products with * are affiliate links. If you want to support me without paying extra money, you can purchase my favorite products through these links. This will enable me to continue providing you with content and help to grow my blog.