I hope you are all well and already enjoying holidays. Right now, I'm in the final week of my second semester at uni and exams are about to start. When I'm studying all the time, I always forget the clock and it is really easy to skip meals. But especially when stressing your body and expecting it to perform at its best, it is very important to provide enough and good fuel. Last weekend, I gave those vegan and paleo lavender coconut cookies a shot and they turned out perfectly at first try! I'm seriously obsessed with lavender at the moment. Lavender is great to calm those nerves and tastes absolutely heavenly. Somehow having these cookies reminded me of holidays in French province.
I'm trying to provide you with some content over the next few weeks but I promise when my exams are over, a lot of amazing stuff is about to come!
Please give these cookies a go and tell me what you think!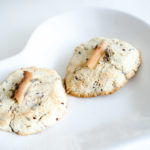 Lavender coconut cookies
Ingredients
35

g

coconut flour/Kokosmehl

10

g

coconut oil/Kokosöl

20

g

white almond flour/weißes Mandelmehl

7

g

flax seed meal/Leinsamenmehl

to have 1 flax seed egg/für ein Leinsamenei

coconut chips/Kokoschips

for decoration/als Dekoration

sweetener of choice /Süße nach Wahl

I used stevia powder. Honey/date syrup/coconut sugar should work as well./Ich habe reines Steviapulver genommen. Honig/Dattelsirup oder Kokosblütenzucker sollte auch funktionieren.

1-2

teaspoon/TL

dried lavender/getrocknete Lavendelblütten

and perhaps some for decoration/und vielleicht ein bisschen als Dekoration
Instructions
Preheat the oven at 180' C./Den Ofen auf 180 Grad vorheizen.

Mix flex seed meal with 35ml water and let sit for 15 minutes to get an egg substitute./Das Leinsamenmehl mit 35ml Wasser verrühren und 15 Minuten quellen lassen.

Combine all ingredients apart from the coconut chips and add a splash water/coconut milk to get a very thick dough. Form three balls with wet hands and press them flat on a baking tin. Top the cookies with coconut chips and perhaps some lavender./Alle Zutaten außer die Kokoschips vermengen und einen Schuss Wasser/Kokosmilch dazugeben, um einen sehr dicken Teig zu bekommen. Mit feuchten Händen drei Bälle formen und auf einem Backblech platt drücken. Kokoschips und eventuell noch etwas Lavendel darauf geben.

Bake for about 25 minutes until golden./Für etwa 25 Minuten backen bis die Cookies leicht goldig sind.
Recipe Notes
If you like cookies rather moist than you can also add some coconut butter to the dough./Wer gerne saftige Kekse hat, kann Kokosmus in den Teig geben. Nutritional information/Nährwerte: for 1 cookie/für 1 Keks 102 calories 1,4g c I 5,6g f I 6,8g p