Sunday morning calls for waffles. And with this easy paleo vanilla protein waffle recipe you can have a delicious breakfast in 10 minutes that will keep you full thanks to being high protein for longer.
This is just a basic recipe and you can add any spices you want. Depending on the season and what is available choose some fruit, different sauces and other add-ons and it will never get boring!
You can find the recipe for my vanilla protein waffles at the end of the blogpost or just watch my video on Instagram.
Don't forget to let me know what you think, when you give this recipe a go!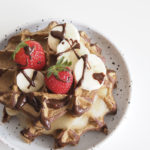 Vanilla protein waffles
Ingredients
25

g

vanilla protein/Vanilleprotein

I linked my favorite paleo & vegan product below/mein geliebtes paleo & veganes findet ihr unten

15

g

plantain flour/Kochbananenmehl

or rice, buckwheat, millet flour/oder Reis-, Buchweizen oder Hirsemehl

50

ml

egg whites/Eiklar

or 1 egg/oder 1 Ei

baking soda/Backpulver

vanilla/Vanille

sweetener of choice if not sweet enough/Süße nach Wahl falls ihr braucht
Instructions
Mix all ingredients with around 50ml liquid (depending on your waffle maker you may need the dough to be more liquid or less) and bake 2 waffles for around 3 minutes in your waffle maker./Alle Zutaten mit etwa 50ml Flüssigkeit (je nach Waffeleisen braucht ihr einen flüssigeren oder festeren Teig) vermengen und 2 Waffeln etwa 3 Minuten goldig backen.
Recipe Notes
Nutritional information for 2 waffles (with egg white)/Nährwerte für 2 Waffeln (mit Eiklar):
164 calories
15g c I 25g p I 1g f
Product recommendations:
plantain flour/Kochbananenmehl
*
paleo & vegan raw vanilla protein/paleo & veganes raw Vanilleprotein*
All products with * are affiliate links. If you want to support me without paying extra money, you can purchase my favorite products through these links. This will enable me to continue providing you with content and help to grow my blog.