Who doesn't like having a piece of chocolate? I guess it is one of those foods that a lot of people have every day… but have you ever made it yourself? This paleo and vegan white matcha chocolate recipe is really easy to make and has more to offer than being a sweet treat.
Matcha* is a great natural energy booster and an alternative to coffee without the typical energy crush. It also contains L-Theanine which promotes focus and relaxation.
Apart from that, it also contains more antioxidants than normal green tea!
The other secret ingredient is collagen protein powder
* which is not vegan – just leave it out if you want to make vegan chocolate.
Collagen is very important for gut and digestive health, helps with recovery and healing injuries and improves your skin, hair, nails and bones.
Definitely, give those white matcha chocolate cacti (or whatever form you use) a go, you will be surprised how easily you can make your own chocolate and personalize it. If you love coconut, sprinkle some shredded coconut on top or add some nuts or dried fruit if you love that.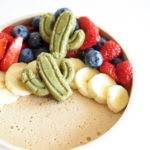 White matcha chocolate
Ingredients
20

g

cacao butter/Kakaobutter

5

g

matcha powder/Matchapulver

10

g

collagen protein/Collagen Proteinpulver

optional (not vegan)/optional (nicht vegan)

vanille/Vanille

sweetener of choice/Süße nach Wahl
Instructions
Melt cacao butter on low heat and then add in all the other ingredients. Fill the chocolate into little silicone forms and put in the fridge until solid./Auf niedriger Hitze den Kakaobutter schmelzen und dann die restlichen Zutaten unterrühren. Die Schoko in kleine Silikonförmchen füllen und im Kühlschrank fest werden lassen.
Recipe Notes
Nutritional information for the entire recipe/Nährwerte für das ganze Rezept:
235 calories
2g c I 11g p I 20g f
Product recommendations:
cacao butter/Kakaobutter
*
collagen protein powder/Collagen Proteinpulver
*
matcha powder/Matchapulver*
All products with * are affiliate links. If you want to support me without paying extra money, you can purchase my favorite products through these links. This will enable me to continue providing you with content and help to grow my blog.