Feeling hungry and need an energy booster? Especially, if you have a 8 to 6 job and hit the gym on your way home, your last meal is a while back and you might need something to fuel your workout. These paleo and vegan berry booster balls provide yourself with a little energy boost to smash your next workout session.
When it comes to pre workout nutrition you want to make sure that what you eat helps you to sustain energy, boost performance, preserve muscle mass and speed up recovery.
If you manage to eat a balanced meal around 2-3 hours before your session, you shouldn't need anything special before your workout. But if you are hungry or haven't eaten for some time, you probably want to have a little snack to get the most out of your session. The closer you get to your workout, the less time there is to digest. Thus, you should aim for mostly easily and quickly digestible carbs and proteins and don't have a lot of fat as it digests slowly. Fats also don't fuel performance like carbs do.
Unlike all those raw bars and balls out there that mostly contain a lot of natural sugar and fat due to containing dates and nuts, these balls are high protein and carb but low in sugar.
Depending on the protein powder you use, you might want to add a bit of sweetener such as stevia or yacon syrup
*. I love using this vegan and paleo acai protein powder or vanilla protein powder* for this recipe and I don't need to add any additional sweetener as the berry powder and protein powder are already sweet enough for me.
To give you a a boosting effect I added guarana powder and some maca powder* (yeiiii, I finally found gelatinised maca which is more easily absorped by the body).
If you are i need of more pre workout snack inspiration, then make sure to also check out my YouTube video!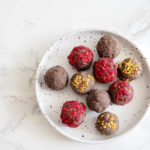 Berry Booster Balls
Ingredients
15

g

coconut flour/Kokosmehl

15

g

acai or vanilla protein powder/Acai und Vanille Proteinpulver

5

g

flax seed/geschrotete Leinsamen

10

g

berry powder/Beerenpulver

50

g

berry apple sauce/Beerenapfelmark

found in the baby food section/gibt's bei der Babynahrung

40

ml

coconut water/Kokosdrink

1

teaspoon/TL

guarana powder/Guaranapulver

1

teaspoon/TL

maca powder/Macapulver
Instructions
Mix all ingredients in a bowl and form small balls./Alle Zutaten in einer Schüssel vermengen und kleine Bällchen formen.

Chose whatever toppings you desire to roll your balls in./Dann nach Belieben Toppings wählen und die Bällchen darin wenden.
Recipe Notes
Nutritional information for all balls/Nährwerte für alle Bällchen:
198 calories
17g carbs I 17g protein I 5g fat
for one ball (of 10)/für einen Ball (von 10):
20 calories
2g carbs I 2g protein I 1g fat
Product recommendations:
acai/vanilla protein powder/Acai/Vanille Proteinpulver*
maca powder/Maca Pulver*
coconut flour/Kokosmehl
*
guarana powder/Guarana Pulver
*
All products with * are affiliate links. If you want to support me without paying extra money, you can purchase my favorite products through these links. This will enable me to continue providing you with content and help to grow my blog.