Sometimes all I need is a hot bowl of soup. Especially when I am not really hungry, when my gut is not feeling its best and when I am just tired and am looking for some warming comforting soup, there is nothing better than digging into something like this delicious asparagus zucchini soup.
My favorite way to enjoy this asparagus zucchini soup is either pairing it with some paleo potato bread and a fried egg or having it as starter. 
For me this is probably one of the most delicious ways to get my daily greens, vitamins and minerals in and asparagus has a lot of health benefits like being anti-inflammatory and being rich in antioxidants, to offer .
You don't have to be an outstanding cook to make this soup and it also doesn't require a lot of time – so what are you waiting for? Get yourself in the kitchen before asparagus season is over!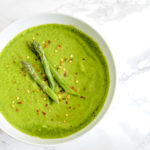 Asparagus zucchini soup
Ingredients
300

g

green asparagus/grüner Spargel

350

g

zucchini/Zucchini

100

ml

veggie stock/Gemüsebrühe

1

spring onion/Frühlingszwiebel

1

teaspoon/TL

coconut oil/Kokosöl

salt, pepper/Salz, Pfeffer

vanilla, chili flakes, mint leaves/Vanille, Chiliflocken, Minzeblätter
Instructions
Saute cut up spring onion in coconut oil while shortly steam asparagus and zucchini./Die gehackte Frühlingszwiebel im Kokosöl anbraten und den Spargel und die Zucchini kurz garen.

Put spices, spring onion, veggies and hot veggie stock into a food processor and blend until smooth and creamy. Depending on the desired consistency, you might want to add some more veggie stock./Die Gewürze, die gebratene Frühlingszwiebeln, das Gemüse und warme Gemüsebrühe in eine Küchenmaschine geben und solange mixen bis eine cremige Suppe entsteht. Je nach gewünschter Konsistenz gegebenenfalls noch mehr Gemüsebrühe dazugeben.
Recipe Notes
Nutritional information for one serving/Nährwerte für eine Portion:
88 calories
9g carbs I 6g protein I 3g fat