Happy mother's day to all those amazing mothers out there! Berries are in season and the weather is getting warmer –  this is the perfect occasion to bake a lemon orange tart! 
This paleo lemon orange tart recipe doesn't require any fancy ingredients and is actually pretty easy to make.
Just make sure to invest in the juiciest lemons and sweetest berries and choose a mild sweet honey – those ingredients are the key for this masterpiece!
Using almond flour
* for the curst makes this cake quite high in protein and the crust doesn't taste like a bland wheat sugar crust but reminds me of marzipan and has a naturally sweet touch.
The sweet and refreshing lemon curd goes perfectly along with that but of course you can also make this curd to put on top of waffles or to enjoy it on your breakfast toast.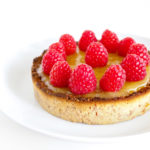 Lemon orange tart
Ingredients
Almond crust
40

g

almond flour/Mandelmehl

30

g

ground almonds/gemahlene Mandeln

or almond flour for lower fat/oder Mandelmehl als Low Fat Option

30

g

coconut oil/Kokosöl

20

g

honey/Honig

lemon peel/Zitronenabrieb
Lemon curd
juice of 1 lemon/Saft einer Zitrone

110

g

honey/Honig

1

egg/Ei

peel of 1 lemon/Abrieb einer Zitrone

vanilla/Vanille

orange peel/Orangenschale

I used dried one/ich habe getrocknete verwendet
Instructions
Preheat the oven at 200' C top- and bottom-heat./Den Ofen auf 200 Grad Ober-/Unterhitze vorheizen.

Mix the ingredients for the almond crust and press into a small tart tin./Die Zutaten für den Mandelboden vermengen und in eine kleine Tarteform pressen.

Use a fork to prick holes into the dough before baking the crust for 10 minutes./Mit einer Gabel Löcher in den Boden stechen und diesen dann für 10 Minuten backen.

Let the crust cool down before you add the filling./Den Mandelboden auskühlen lassen bevor du den Lemon Curd einfüllst.

Place all ingredients for the lemon curd into a pan and whisk them all together. Turn on the heat and whisk your lemon curd continuously whilst cooking on medium heat until thickened./Die Zutaten für den Lemon Curd in einem Topf vermengen und dann erhitzen. Bei mittlerer Hitze unter ständigem Rühren kochen bis er eindickt.

Let the lemon curd cool down a bit (around 15 minutes) before filling it into the crust./Den Lemon Curd vor dem Einfüllen etwas auskühlen lassen (etwa 15 Minuten).

Fill the lemon curd into your crust and place your tart in the fridge to set (1-2 hours)./Den Lemon Curd in den Mandelboden füllen und die Tarte in den Kühlschrank geben, damit die Füllung fester wird (1-2 Stunden).

Top with raspberries before serving./Vor dem Servieren den Kuchen mit Himbeeren verzieren.
Recipe Notes
Nutritional information/Nährwerte:
1103 calories
104g c I 36g p I 54g f
for one slice (1/4 of the cake)/für ein Stück (1/4 vom Kuchen):
276 calories
26g c I 9g p I 14g f
Product recommendations:
coconut oil/Kokosöl
*
almond flour/Mandelmehl
*
All products with * are affiliate links. If you want to support me without paying extra money, you can purchase my favorite products through these links. This will enable me to continue providing you with content and help to grow my blog.