Who is up for a creamy and rich dark chocolate cake? I made this paleo (and optional vegan) chocolate cake for my Mum's birthday cause she is a big chocolate and Sachertorte fan.
Although this cake doesn't contain refined sugar and the glaze is made with my favorite 100% dark chocolate, she still loved it!
Of course, you can't compare this cake to a conventional chocolate cake you buy at a store that is made with lots of sugar and flour but it is by far the richest chocolate cake I have ever made.
If you prefer watching over reading the recipe, make sure to have a look at my new YouTube video down below.
And if you want to be extra hungry to demolish the cake, check out the fat burning workout in this video!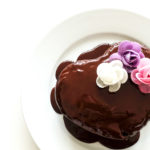 Chocolate cake
Ingredients
40

g

ground almonds/gemahlene Mandeln

you can also use half almond flour & half almonds/Hälfte Mandelmehl & Hälfte Mandeln geht auch

40

g

ground chufa/Erdmandelmehl

20

g

coconut flour/Kokosmehl

15

g

unsweetened cacao powder/ungesüsstes Kakaopulver

50

g

coconut sugar/Kokosblütenzucker

125

g

coconut chocolate yoghurt/Kokos-Schoko-Joghurt

1

egg/Ei

flax egg works too/Leinsamenei funktioniert auch

1/2

teaspoon/TL

baking soda/Natron

1/2

teaspoon/TL

baking powder/Backpulver

a splash of/ein Schuss

apple cider vinegar/Apfelessig

vanilla/Vanille

60

ml

almond milk/Mandelmilch
for the glaze/für die Glasur
50

g

100% dark chocolate/100% dunkle Schokolade

1

teaspoon/TL

coconut oil/Kokosöl

vanilla/Vanille
Instructions
Preheat the oven at 200' C top- and bottom-heat./Den Ofen auf 200 Grad Ober-/Unterhitze vorheizen.

Mix all ingredients for the dough and fill into a small cake tin./Alle Zutaten für den Teig vermengen und in eine kleine Kuchenform geben.

Bake for 35-40 minutes and let the cake cool down completely before removing from the tin./Für 35-40 Minuten backen und den Kuchen vor dem Entfernen der Form komplett abkühlen lassen.

For the glaze melt the chocolate with coconut oil and vanilla and distribute evenly onto the cake./Für die Glasur die Schokolade mit dem Kokosöl und Vanille schmelzen und dann gleichmäßig auf dem Kuchen verteilen.
Recipe Notes
Nutritional value for one slice/Nährwerte für ein Stück:
172 calories
12g c I 5g p I 11g f
Product recommendations:
almond flour/Mandelmehl
*
ground chufa/Erdmandelmehl
*
coconut sugar/Kokosblütenzucker
*
coconut oil/Kokosöl
*
All products with * are affiliate links. If you want to support me without paying extra money, you can purchase my favorite products through these links. This will enable me to continue providing you with content and help to grow my blog.