Who doesn't like to enjoy a long and satisfying breakfast on Sunday? Sundays are great – we have time to make breakfast for ourselves and our beloved ones and sit together to eat and relax before another stressful week begins.
As a kid, I enjoyed going to the bakery, smelling freshly baked bread and choosing something different every Sunday for breakfast. Going paleo means to cut out conventional bread but it does not mean you have to give it up completely! Today, I want to share a quick and easy recipe for nut free bread rolls.
I've always loved the process of baking. Mixing ingredients, kneading the dough, watching the bread rise in the oven and last but not least, I am obsessed with the smell of baked bread which creeps in every corner of my flat.
The best way to enjoy these bread rolls is in my opinion to slice them up and toast them or cut them in half, put some coconut oil on them and bake/toast them in the oven. Doing this, you will get crispy and warm bread rolls, ready to top with a delicious egg (with a runny yolk) and or avocado and fresh herbs and different spices.
If you have more of a sweet tooth, try them oven baked with coconut butter and cinnamon!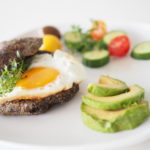 Paleo nut free bread roll
Ingredients
50

g

linseed flour/Leinsamenmehl

10

g

coconut flour/Kokosmehl

10

g

psyllium husk powder/Flohsamenschalenpulver

140

ml

hot water/heißes Wasser

5

g

egg white powder/Eiklarpulver

or 1 egg white/oder 1 Eiklar (use less water/dann weniger Wasser verwenden)

1

teaspoon/TL

baking soda/schwacher TL Natron

salt, fennel, caraway or any sort of herbs/Salz, Fenchel, Anis, Kümmel oder Kräuter nach Wahl
Instructions
Preheat the oven at 200 degrees Celsius top and bottom heat./Den Ofen auf 200 Grad Ober-/Unterhitze vorheizen.

Mix dry ingredients and add hot water and knead it shortly./Die trockenen Zutaten mit dem heißen Wasser kurz verkneten.

Let the dough sit for about 10 minutes./Den Teig für 10 Minuten quellen lassen.

Form two bread rolls (about 1,5 centimeter high - they will rise)./Zwei Brötchen formen (etwa 1,5 Zentimeter hoch - sie gehen beim Backen auf).

Bake for about 35 to 40 minutes./Für ca 35-40 Minuten backen.
Recipe Notes
Nutritional information/Nährwerte: for one bread roll/für ein Brötchen
112 calories
1g c I 4g f I 13g p